Dorset composer and pianist 'honoured' to be supporting Aled Jones MBE on tour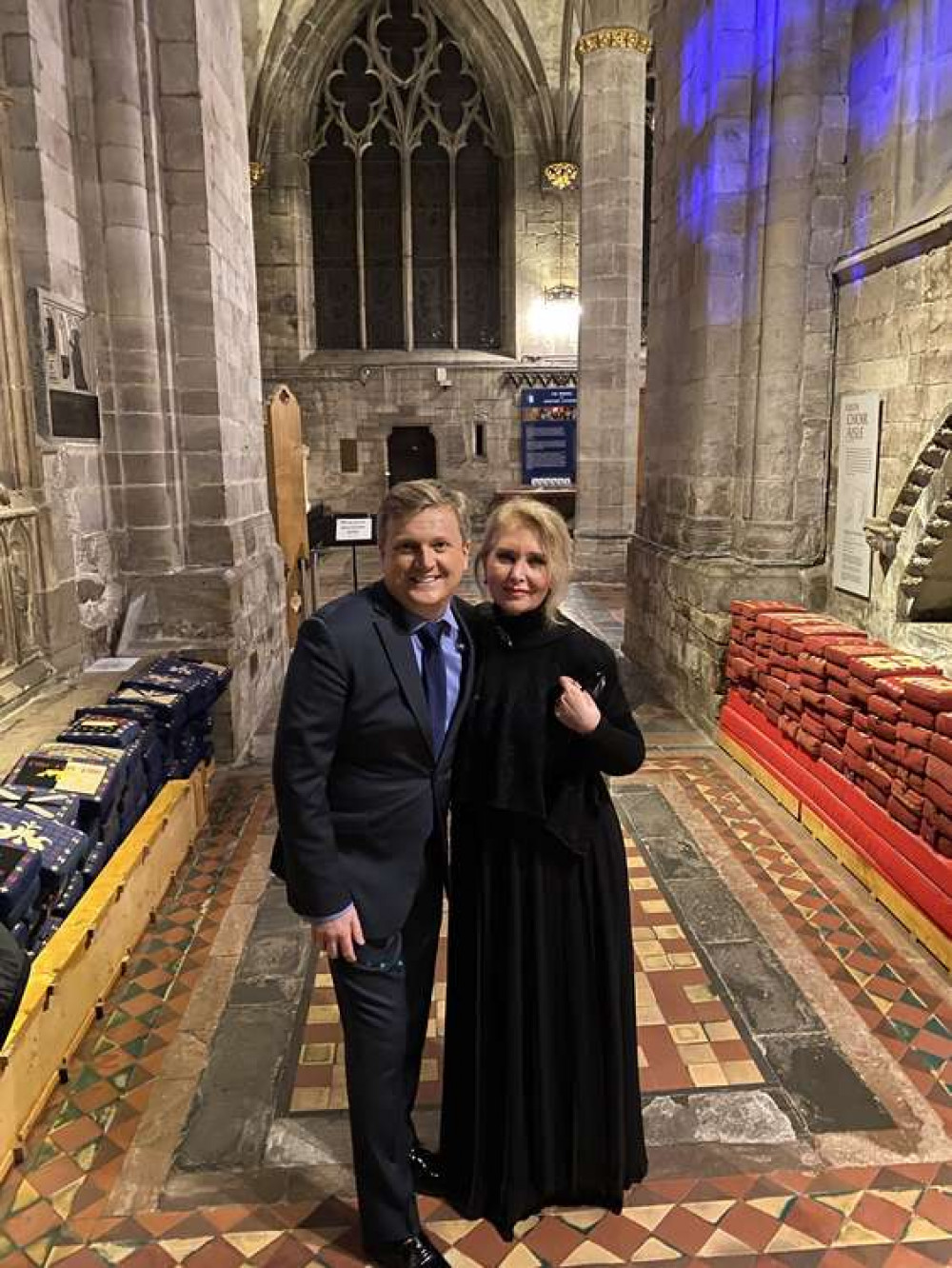 Aled Jones MBE and Tamara Konstantin
Acclaimed classical composer and pianist from Dorset is wowing audiences nationwide as a special guest supporting Aled Jones MBE on his 24-date UK Cathedral Tour.
Tamara Konstantin is accompanied on the tour by world renowned cellist Jiaxin Lloyd Webber and violinist Elly Suh, whom together make up The Three Graces.
The tour opened on February 23 at St Mary's Church in Nottingham and takes in some of the most stunning holy buildings in the UK before reaching a finale on Saturday the 26th of March at St Asaph Cathedral in Wales.
Tamara has been enjoying huge success with her new, and third, album Resilience, which forms the backbone of the music that she performs on the tour.
The album was composed during the pandemic, and is testament to Tamara's belief in the power of music to console, uplift and bring people together.
Tamara said: "To support Aled Jones is a great honour and to be playing in such exalted surroundings is a genuine thrill. Jiaxin Lloyd Webber, Elly Suh and I are very excited be involved with the tour and have received a fantastic reception from audiences and some very kind compliments."
Tamara's inspiration stems from her deep love for her adopted country, and more particularly, for her home county of Dorset.
The classically trained pianist from Weymouth grew up in Georgia, and has built successful careers first as a TV presenter and then as a senior oil company executive.
A move to Dorset 18 years ago sparked a return to her early love of music and the subsequent release of three successful albums followed by the current tour.
"I love Dorset and feel very privileged to call it home. For me, it's the most amazing part of England and everything about it is a constant source of inspiration for the pieces I create," she added.
Tamara graduated from Tbilisi Music Academy after learning the piano at an early age and attending a music school for gifted children in her native Georgia.
As a classically trained pianist and composer, Tamara has performed for HRH Prince Charles, and had her highly acclaimed compositions played on Classic FM and BBC Radio.
The tour sees Aled Jones MBE perform tracks from his album 'Blessings', which features songs from a range of different faiths, including uplifting hymns, texts and scripture set to music. For more information visit
tamarakonstantin.com/live/
and
officialaledjones.com/home/
Don't forget to sign up to our newsletter below!
You can submit your own news straight to Dorchester Nub News by using the 'Nub It' button on our
home page.
This can also be done for events on our
What's On page
and businesses, groups and organisations on our
Local Listings page
, also by using the 'Nub It' button.
Please like and follow our online newspaper on your favourite social media channel. You can find us @DorchesterNubNews on Facebook and @DorchesterNub Twitter.